Our Oklahoma Truck Accident Lawyers Help Families Recover
Have you been involved in an accident with a truck, semi-trailer, or piece of heavy equipment?

Did you suffer damage or personal injury in the wreck, and you're struggling to get the trucking company to release compensation?

Have you been offered an amount that's unfairly low for your suffering and injuries received at the time of the accident?

Are you wondering how you will ever get the trucking company to hear your side of the story?

If this describes you, know that the truck accident lawyers at the Edwards Law Firm are here to help.
A truck accident can be a scary and painful experience. Trucking companies have well-funded legal teams who are very adept at covering their bases and reducing their liability in the event of an accident. If you are the victim in a trucking accident, not only are you up against a robust legal team, you're also far more likely to have sustained more severe injuries and greater damage to your vehicle than if it was an accident with another passenger vehicle.
It may feel like no one is interested in hearing your side of the story, and you may be afraid that you'll never receive the compensation you're due for your damages and injuries.

This is when you may need a lawyer on your side.

If you or a loved one has been injured in a truck accident due to the negligence of a truck driver, our Oklahoma truck accident lawyers at The Edwards Law Firm will fight by your side until justice is served.
We have recovered more than $100,000,000 in compensation for our clients and offer legal counsel to injury victims and their families throughout Oklahoma. Our founding partner, Mark Edwards, is an award winning lawyer who graduated from the University of Oklahoma College of Law and is the only lawyer in Tulsa to hold the honor of being a charter member of the American College of Board Certified Attorneys.
Are You Eligible to File a Lawsuit?
If you have been injured in a Tulsa County truck accident and intend to file a compensation claim in the state of Oklahoma, you need to be able to prove two key points to help validate your claim:
The negligence of the other motorist (either in part or totally) was the cause of the accident
The injuries or damages that you sustained were the result of that accident
The lawyers at The Edwards Law Firm have many years of experience building lawsuits for accident victims in Oklahoma and have recovered more than $18,000,000 specifically from truck accident claims. Our team can help to review the finer details of your accident to build a robust argument for your case.
NOTE: Section 12-95 of the Oklahoma Statutes states that there is a two-year statute of limitations in the state of Oklahoma. This means if you have been injured in an accident or suffered property damage in an accident, you have two years from the date of the incident to file a damages claim.
---
Can You Be Financially Compensated for Your Injuries?
While it's important to note that each case is different, there are a number of areas that you may be eligible to claim compensation from:
Pain and suffering (past and future)
Medical treatment (past and future)
Outpatient treament (past and future)
Lost earnings (past and future)
Loss or impaired capacity to work
Property damage
Some of the factors that may be considered as part of your compensation claim include your physical condition immediately before the accident, your age, the type of injuries that were sustained in the accident, and the extent of those injuries.
---
Common Causes of Truck Accidents
Like all accidents, there are a variety of factors which could cause a collision. However, large trucks have unique dangers, like load shifts or improperly maintained equipment, which may lead to accidents.
If you were injured in an accident with a large truck, you need experienced trucking attorneys who understand the wide array of specialized dangers that commercial trucks pose to ordinary drivers. Don't trust your case to just any personal injury attorney–trust the knowledge and results amassed by The Edwards Law Firm.
Some of the hazards of large trucks and commercial vehicles include:
Lack of driver training
Bad weather conditions
Inexperienced drivers
Driver inattention (e.g. texting)
With many semi-trailer collisions involving driver error, it's important that other motorists remember to drive defensively whenever sharing the road with a large truck and stay out of that vehicle's blind spot whenever possible.
---
Types of Trucks Often Involved in Serious Collisions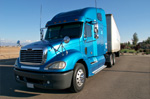 Due to the increasing demands of the transport industry, from both an overall functionality and fuel efficiency perspective, many manufacturers have created vehicles that are designed to handle very specific requirements of the industry. Survivors of truck accidents will have different experiences based on the type of commercial vehicle that hit them.
With this in mind, some of the most popular vehicle types include:
Flatbeds
Passenger movers (buses / coaches / tour buses)
Tankers
Each of these has been designed to perform a specific function for the owner or operator of that vehicle.
---
Common Occupant Injuries In Truck Accidents
Injuries caused in truck accidents are often worse than accidents involving two passenger vehicles. Even with crash-avoidance systems in place, advanced technologies cannot cause an 80,000-pound truck to stop suddenly or maneuver around obstacles. The resulting injuries to vehicle occupants can be life-changing for all parties concerned, and many survivors are left mourning the loss of a loved one.
Some of the most common injuries that crash victims experience can include:
Paralysis
Head injuries
Chest injuries
Dislocated joints
Severed limbs
Whiplash injuries
Broken bones
Lacerations
Facial damage
In many instances, accident survivors are left with the cost of burying a loved one in addition to their own substantial medical costs, long-term rehabilitation and emotional distress brought on by the death of their family member. Our truck accident attorneys understand that you need help with these unexpected expenses, and will fight to get you the compensation you deserve for your suffering.
---
About Negligence In Truck Accidents
Accidents happen. That's why they are called "accidents." Sometimes, things happen on the road and nobody would have been able to do anything differently. A deer jumps out in front of you. The vehicle ahead of you hits a patch of ice and spins out, and you have nowhere to go and no time to react. The person behind the wheel of a vehicle is a human, and humans are prone to make errors in judgment. However, if an accident occurs due to negligent behavior and choices that a reasonable person would have avoided, that's when you have a problem.
Negligence is when someone is choosing a course of action that a reasonable person wouldn't take. For example, if someone is speeding when they hit you on an icy road, you may be able to prove negligence, because a reasonable person wouldn't be speeding when the weather is treacherous. If they were driving at a proper speed and not following so closely, maybe they wouldn't have hit you.
Truck drivers (and trucking companies) are under a special burden to avoid being negligent, as they are driving an 80,000-pound vehicle that is hurtling down the road at 65 miles per hour. You don't have to think very hard to realize that that could hurt someone. Therefore, trucking companies must be very careful to hire the right drivers, train them adequately, maintain their vehicles properly, and implement policies and procedures that protect their safety and the safety of the people around them.
For instance, we've probably all seen a truck going down the road with a tire that's falling to pieces and about to come off. That's dangerous, because if that tire flies off and hits a vehicle, it could cause damage or injuries to that vehicle (and possibly more than one, depending on how heavy the traffic is). Is it negligent to have a problem with a tire? If the trucker ran over something in the road, maybe not, but if their policy is to "drive until the tires fall off," maybe so. That's something that you could argue in court.
Any area where a driver or a trucking company policy failed to exercise a reasonable degree of care to avoid causing an injury could potentially be argued as negligence. Here are some examples. (Keep in mind that these examples are not something that automatically mean that a driver or company was negligent; the nature of how these cases work is that your lawyer would argue for them. A winning lawyer with a good argument would be the one who gets the judge to side with him on that argument. This is why it's important to choose your lawyer carefully.)
The driver's negligence
Driving while texting or otherwise distracted
Driving while extremely sleepy
Driving while under the influence of alcohol or drugs
Driving without proper training or experience for the job
Speeding
Negligence related to the truck
Lack of regular maintenance
Failure to perform timely repairs
Lights burned out or not working
Lack of proper precautions for carrying hazardous material
Loose items not properly tied down
Cargo not properly secured and able to shift
Negligence related to trucking company policies
Negligence in hiring practices
Negligence in fully training employees
Requiring employees to log an unusual number of hours or miles, resulting in driving while sleep deprived
---
Should I Sue Over My Truck Accident?
If you have been involved in an accident with a truck and you think you may have a case, it's important to act quickly. There is a time limit of two years from the date of the accident to file your case, and the sooner you act, the more evidence will probably still be available for your truck accident attorney to access.
For many of our customers, it's their very first time to interact with a lawyer or turn to the legal profession for any reason. If this is you, you may be feeling hesitant to go forward, fearful of what it will involve, and concerned that it will be a huge hassle. Here's what we want to reassure you of.
First, when the Edwards Law Firm takes your case, we do what is available to take the hassle off of your shoulders and put it onto our shoulders. We'll guide you every step of the way.
Second, it's going to be a far bigger hassle for you if you're stuck trying to pay bills you can't afford because you were offered an unfairly low settlement (or no settlement at all).
Third, it doesn't make you a bad person to sue someone. It doesn't mean that you think the truck driver is a villain or that you're an unforgiving, vindictive person. It simply means that you understand that you may be entitled to compensation for your injuries and you need someone to speak up for you and claim it on your behalf. That's what your lawyer is there for. We are a voice for those who have no voice.
Costs
Keep in mind that our law firm charges on a contingency basis. This means that we only get paid if we win your case. Therefore, you can breathe a sigh of relief that you won't be stuck paying attorneys' fees in addition to all your other expenses in the aftermath of the accident. It is our goal to make sure that legal services are available to anyone, not just the wealthy. Truck accidents don't discriminate in the victims they claim, and we want you to have the opportunity to fight for financial relief after your accident.
---
What Are My Next Steps?
Fill out our online form to tell us about your case. We offer a free case review to our clients, so tell us your circumstances and we will get back to you about whether it's a case we want to accept.
Gather any evidence you have in a folder. If you have everything easily accessible in one place, it'll be easier for you to bring it to your lawyer. Examples of evidence that will be helpful (if we need additional information, we will let you know):

Any photos you have of the wreck
Copy of the police report
Truck driver's name and company name
Truck license plate number
Names and contact info of any witnesses
Copies of hospital bills and vehicle repair bills
Written description of the circumstances of the accident
Any details of attempts you have already made to get compensation (dates and times of phone calls, who you talked to, what was said, etc.)

We will guide you step by step through the case as it proceeds.
---
Contact Our Truck Accident Lawyers Today
If you have additional questions about your accident, or would like to learn more about trucking accidents, The Edwards Law Firm can give you the information you need to recover after a collision.
If you have been injured in an accident in Tulsa with a large truck or commercial vehicle, contact The Edwards Law Firm today by filling out our free case evaluation form, or by calling 888-600-9836.

Our Tulsa, OK location is located near the Tulsa County Sheriff's Department and we are ready to help review the details of your incident today.