Our Oklahoma Truck Accident Lawyers Help Families Recover
If you or a loved one has been injured in a truck accident due to the negligence of another driver, our Oklahoma truck accident lawyers at The Edwards Law Firm will fight by your side until justice is served.
We have recovered more than $100,000,000 in compensation for our clients and offer legal counsel to injury victims and their families throughout Oklahoma. Our founding partner – Mark Edwards – is an award winning lawyer that graduated from the University of Oklahoma College of Law and is the only lawyer in Tulsa to hold the honor of being a charter member of the American College of Board Certified Attorneys.
Are You Eligible to File a Lawsuit?
If you have been injured in a Tulsa County truck accident and intend to file a compensation claim in the state of Oklahoma, you need to be able to prove two key points to help validate your claim:
The negligence of the other motorist (either in part or totally) was the cause of the accident
The injuries or damages that you sustained were the result of that accident
The lawyers at The Edwards Law Firm have many years of experience building lawsuits for accident victims in Oklahoma and have recovered more than $18,000,000 specifically from truck accident claims. Our team can help to review the finer details of your accident to build a robust argument for your case.
NOTE: Section 12-95 of the Oklahoma Statutes states that there is a two-year statute of limitations in the state of Oklahoma. This means if you have been injured in an accident or suffered property damage in an accident, you have two years from the date of the incident to file a damages claim.
---
Can You Be Financially Compensated for Your Injuries?
While it's important to note that each case is different, there are a number of areas that you may be eligible to claim compensation from:
Pain and suffering (past and future)
Medical treatment (past and future)
Outpatient treament (past and future)
Lost earnings (past and future)
Loss or impaired capacity to work
Property damage
We have recovered more than $18,000,000 specifically from truck accident claims…
Some of the factors that may be considered as part of your compensation claim include your physical condition immediately before the accident, your age, the type of injuries that were sustained in the accident and also the extent of those injuries.
---
Common Causes of Truck Accidents
Like all accidents, there are a variety of factors which could cause a collision. However, large trucks have unique dangers, like load shifts or improperly maintained equipment, which may lead to accidents.
If you were injured by in an accident with a large truck, you need experienced trucking attorneys who understand the wide array of specialized dangers that commercial trucks pose to ordinary drivers. Don't trust your case to just any personal injury attorney–trust the knowledge and results amassed by The Edwards Law Firm.
Some of the hazards of large trucks and commercial vehicles include:
Lack of driver training
Bad weather conditions
Inexperienced drivers
With many semi-trailer collisions involving driver error, it's important that other motorists remember to drive defensively whenever sharing the road with a large truck and stay out of that vehicle's blind spot whenever possible.
---
Types of Trucks Often Involved in Serious Collisions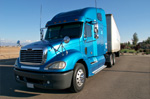 Due to the increasing demands of the transport industry, from both an overall functionality and fuel efficiency perspective, many manufacturers have created vehicles that are designed to handle very specific requirements of the industry. Survivors of truck accidents will have different experiences based on the type of commercial vehicle that hit them.
With this in mind, some of the most popular vehicle types include:
Flat beds
Passenger movers (buses / coaches / tour buses)
Tankers
Each of these have been designed to perform a specific function for the owner or operator of that vehicle.
---
Common Occupant Injuries In Truck Accidents
Injuries caused in truck accidents are often so much worse than accidents involving two passenger vehicles. Even with crash-avoidance systems in place, advanced technologies cannot cause an 80,000 pound truck to stop suddenly or maneuver around obstacles. The resulting injuries to vehicle occupants can be life changing for all parties concerned, and many survivors are left mourning the loss of a loved one.
Some of the most common injuries that crash victims experience can include:
Paralysis
Broken bones
Lacerations
Facial damage
In many instances, accident survivors are left with the cost of burying a loved one in addition to their own substantial medical costs, long term rehabilitation and emotional distress brought on by the death of their family member. Our attorneys understand that you need help with these unexpected expenses, and will get you the compensation you deserve for your suffering.
---
Contact Our Truck Accident Lawyers Today
If you have additional questions about your accident, or would like to learn more about trucking accidents, The Edwards Law Firm can give you the information you need to recover after a collision.
If you have been injured in an accident in Tulsa with a large truck or commercial vehicle, contact The Edwards Law Firm today by filling out our free case evaluation form, or by calling 888-600-9836.

Our Tulsa, OK location is located near the Tulsa County Sheriff's Department and are ready to help review the details of your incident today.